Cloth all over the coffee table. I sat to study it up close. I knelt to move and re-pin pieces here and there. I stood to take in the big picture. I got nowhere.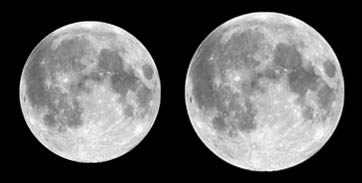 Then I realized that the Moon is at the point in its monthly orbit farthest from Earth, called apogee, the one on the left. Perigee, on the right, defines the closest point. It doesn't look like much difference, but who knows -- maybe it's not just me today, possibly it's the Moon's doing. That's almost too convenient an excuse!
When focus and direction are lacking, I say do laundry or cast on. I'm doing both.
More Last-Minute Knitted Gifts
by Joelle Hoverson and organic Blue Sky Alpacas Worsted Cotton.